About the Whipmaker
Whips are my passion. It all started for me when I was twelve and went to the cinema to watch Raiders of the Lost Ark. I was deeply impressed with how Indiana Jones skillfully used his whip as a tool to disarm the bad guy on an early scene. I was hooked for life. A few days later I was playing Indy with a rope whip that my dad made for me.
Many years passed before one of my childhood dreams came true and I ordered my Indy whip, made by David Morgan, the master whipmaker that created the Indy style bullwhip. When it arrived after months of waiting, I readily admired the craftsmanship and skill involved in making it. It was then that I got inspired to try my hand at whip making. I purchased all the books available on the subject, including David Morgan's excellent books Whips and Whipmaking and Braiding Fine Leather. Armed with all the knowledge I could gather, I started making my first whip. Soon after I wanted to improve it and make another, and then another. Making whips and improving my skills became my obsession, always trying to imitate the work of the great master.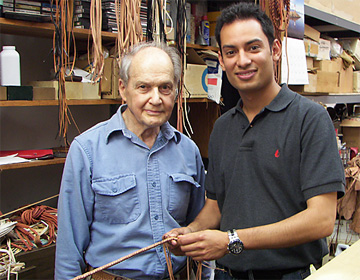 I was lucky enough to receive a lot of help throughout years from David Morgan himself, who has always been extremely generous, patient and kind in answering my endless questions on the phone and later in person when I finally met him. The knowledge I received from him proved to be invaluable and fundamental in improving my whip making skills and understanding of the American bullwhip, its dynamics and construction.
Without a doubt, the ultimate experience for me as a whip maker and Indy fan was meeting David Morgan in the spring of 2006 and spend some days in his shop learning directly from him. To me, it was like meeting my hero, and enjoyed every minute I spent with him. I learned a lot about whips and whip making, and most of all, about the whip he created, the Indy whip. He was kind enough to show me everything, from start to finish, step by step how he crafted his whips and the reasons behind. I perfected my skills and techniques under his supervision, and before leaving he had a surprise for me: he gave me as a gift one of the Indy whips I was braiding for him! I will be forever grateful to him for this unique and unforgettable experience.
My background as a graphic designer also influenced the way I approach this art. Combining hard work with perseverance and meticulousness proved fundamental in achieving excellence in my craft. I am a consummate perfectionist, and I pay the utmost attention to detail. Each and every whip I make is patiently handcrafted with care, passion and love.